The Role of Indonesian Communities in Supporting Batik as Indonesia Cultural Heritage
Initially, the art of batik only existed in the palace environment. This is one way to show the existence of aristocrats in the resulting works of art. But at this time, the art of batik has spread widely in society, even the profession as a batik has become a livelihood for the community, especially women.
Batik Crafters and Batik Industry
In Central Java, the batik craftsmen/batik makers and the batik industry have developed rapidly, such as in Yogyakarta and Surakarta. In Yogyakarta, the batik industry has also experienced ups and downs. According to Nurainun (2008), in the 1970s, there were 1200 batik business units and until 2008, only 400 business units had survived. Meanwhile, from data from the Batik Cooperative of the Indonesian Batik Entrepreneurs Association in Yogyakarta, out of 116 batik business units, now only 16 are left, while only 5 are running a batik business. Meanwhile, in Gunung Kidul, data from the DIY Industry, Trade, and Cooperative Office states that the number of written batik industries from 2003-2004 decreased drastically from 107 business units to 8 units. The downward trend in the number of business units also occurred in the Kobat Tantama cooperative, where more than 70% of its members were no longer active in the batik industry sector, out of a total membership of 132 craftsmen.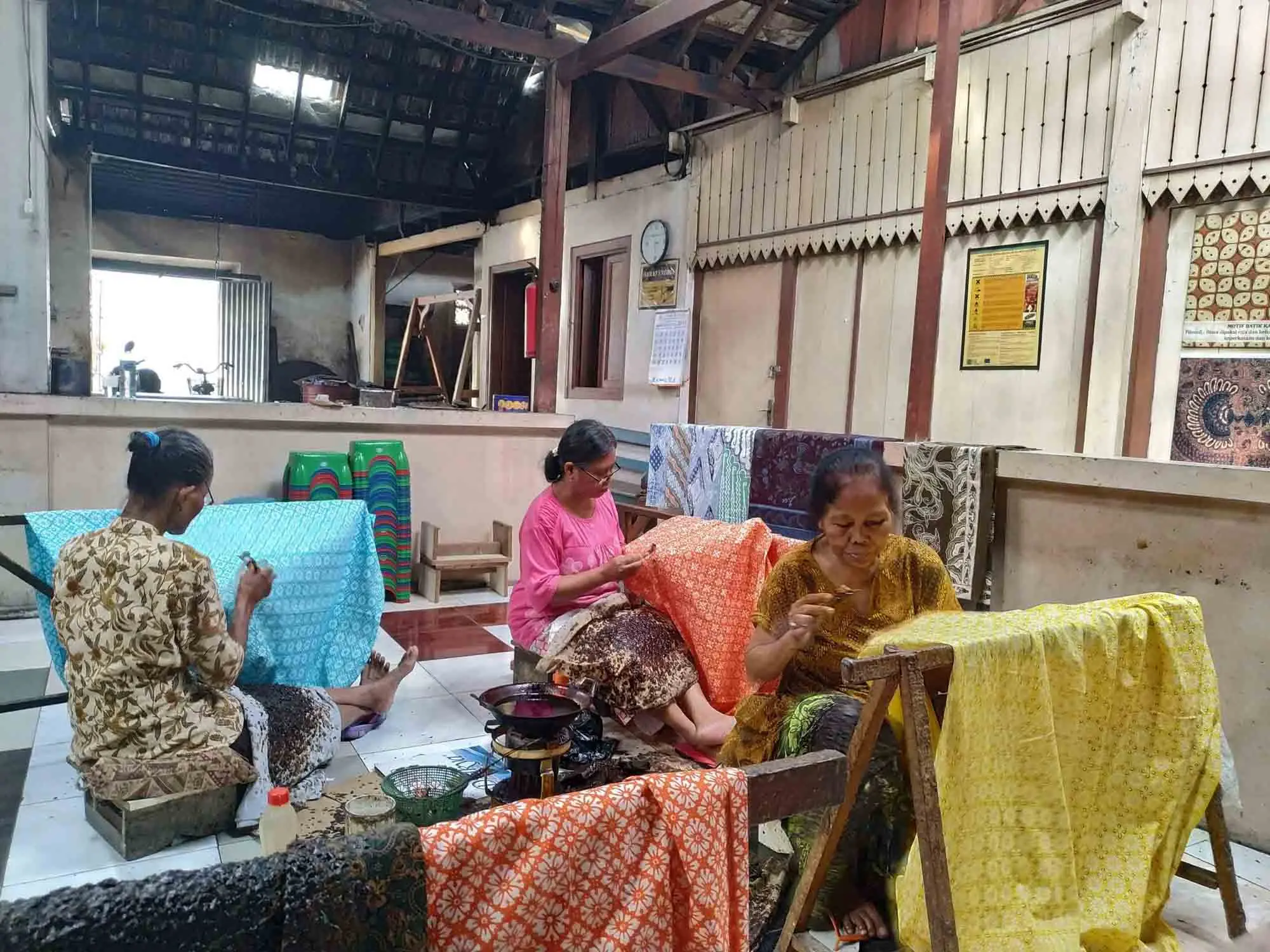 The downward trend in business units also occurred in Lasem batik. Starting in the 1950s, 140 batik entrepreneurs later declined to become 70 batik entrepreneurs in the 1970s. In 2008, only 12 people survived in the batik business. The main thing that underlies the fading of Lasem's batik industry is human resources. There is no regeneration of young batik makers because Lasem batik is mostly hand-made batik.
Meanwhile, the batik industry in Pekalongan has survived until now and even tends to be prospective. According to Nurainun (2008), said:
"From the Pekalongan government data, it is known that there are 1719 batik craftsmen spread across three districts, namely West Pekalongan, East Pekalongan, and South Pekalongan. There are 600 batik companies and 700 garment companies. These batik entrepreneurs have four large wholesalers, namely Sentono (225 stalls), Gamers Market (350 stalls), Mega Grosir MM (150 stalls), and Metono market.".
Meanwhile, the batik industry in Solo has also experienced an increase since a decade ago. There are two batik centers in Solo, which are centered in Laweyan and Kauman. In Laweyan, the FPKBL Forum has been formed, namely the Laweyan Kampoeng Batik Development Forum with the chairman of Alpha Febela Priyatmono. Kampoeng Batik Laweyan was dominated by medium and large business entrepreneurs since tens or even hundreds of years ago. There are 93 business actors in Laweyan, more than 50% of which are small business actors with fewer than seven employees, "Alpha Febela told Tempo, Friday, 3 May 2013.
Meanwhile, Kampoeng Batik Kauman can also see the pulse of the batik industry. In February 2006, the Kampoeng Batik Kauman Association was formed. Currently, the Kampoeng Batik Kauman cluster has 72 members and 40 members have joined the cooperative.
While in Cirebon, there is Trusmi Batik Village is the center of the batik tourism industry. This village includes five villages, namely Trusmi Wetan, Trusmi Kulon, Panembahan, Wot Gali, and Weru. According to the Head of Industry at the Cirebon Regency Industry and Trade Office, Supardi has 402 batik handicraft business units, but many have collided with capital.
For Lasem batik in Rembang district, a source from the Rembang Regency UKM Indagkop Office in 2012 said that there were 54 Lasem batik industry entrepreneurs with monthly productivity of around 16 thousand pieces and absorbing a workforce of 2119 people. In 2013, the number of batik industry entrepreneurs increased to 71 people with monthly productivity of 20 thousand pieces and absorbing a workforce of 4,457 people. In 2014, the increasing trend continued, there were 84 batik entrepreneurs with productivity reaching 24 thousand pieces per month and involving 4,620 people. Of the many people involved in the batik industry, 7 Lasem batik entrepreneurs have protected their work by submitting trademarks to the Ministry of Law, consisting of Sekar Mulyo Art, Sorkak Sorgung Art, Kresno Aji Batik, Hamdan Batik, Dampo Awang Art, Purnama Art, and Sola Gracia Art (source: Radio Citra Bahari FM Rembang)
Outside of Java, there are Madurese and Balinese batik. In Madura, data from DISPERINDAG Pamekasan describes that the location of batik handicrafts in Pamekasan is spread across 11 sub-districts with the largest number in Proppo sub-districts. This location is close to the palace so it is natural to have traces of an abundant batik heritage there. Pamekasan Regency Government has developed written batik industry centers, which in total reach 28 centers, spread over seven sub-districts. The details are as follows: Pamekasan sub-district 5 batik shop centers, Proppo sub-district 12 batik shop centers, Palengan sub-district 6 batik shop centers, Waru district 1 batik shop center, Pegantenan sub-district 2 batik shop centers, Galis district 1 batik shop center, and Tlanakan sub-district 1 batik shop center.
Meanwhile, Balinese batik is centered in the city of Denpasar as the capital of Bali. According to Biomantara (2014), the batik cloth industry in Denpasar is the largest industry in Bali Province. With a total of 61 business units and absorbing a workforce of 417 people with an investment value of 2,037,600,000 rupiahs, the number of batik industries in Denpasar City from 2008 to 2010 was 71 industrial units, in 2011 there were 73 industrial units and in 2012 it fell to 61 industrial unit. There is one more area that also produces batik cloth, namely Badung Regency, with a total of 3 business units by absorbing a workforce of 58 people.
From many batik business units scattered, a term that refers to a particular batik has begun to be recognized in accordance with the motif, decoration, and origin of the batik. Therefore, now we know the names of Solo Batik, Yogyakarta Batik, Betawi Batik, Cirebon Batik, Rembang Batik, Pekalongan Batik, Madura Batik, Semarang Batik, Balinese Batik, and other batik scattered throughout the archipelago.
Indonesian Batik Events
"A great nation is a nation that respects its culture, Indonesia deserves to be called a cultured nation" That is a quote from Nelson Mandela, an apartheid fighter who once served as President of South Africa. The award for batik as a cultural heritage itself is what led the Indonesian state to get world recognition represented by UNESCO that Batik is an Indonesian Cultural Heritage and is included in the World Heritage list. World recognition of Indonesian batik must also be followed by the concrete actions of the Indonesian people to preserve the cultural heritage of batik art. One of the concrete actions to raise awareness of the sense of belonging to batik and to preserve it is by holding batik-themed events or events.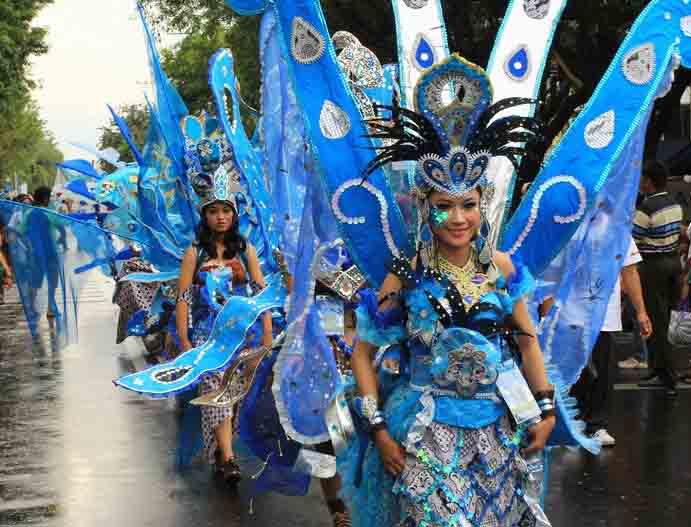 Local batik-themed events have been routinely held in various regions such as in Solo there is the Solo Carnival: Batik is my Life is scheduled for February 21, 2016; Java Expo 2016, a National Exhibition that collaborates the tourism, trade, and investment sectors participated in by participants in the Indonesian territory and is scheduled for 4-8 May 2016; Solo Investment Trade and Tourism Expo 2016, is a collaborative exhibition of investment, trade, and tourism to introduce investment and tourism potential in Solo; Solo Batik Carnival, which is a batik theme carnival scheduled for July 2016; Solo Batik Fashion, featuring batik designs that can be used as benchmarks for national batik clothing and this event is scheduled for October 2016; Balekambang Art Market, a diverse cultural art market scheduled for October 2016.
There are batik-themed events in Yogyakarta such as the Batik Demo held by Tembi Rumah Budaya in Bantul and held every Sunday which aims to introduce batik culture to the community; TEBAKIN is an exhibition of weaving, batik and traditional Indonesian fabrics scheduled for August 2016; Jogja Fashion Week will be held in May 2016.
Meanwhile, several other cities also hold events that support batik art. In Pekalongan there is an International Batik Week scheduled for October this year. Also, there are the Pekalongan City Cultural Carnival and the Pekalongan Batik Carnival. This event displays all the cultural potentials in Pekalongan.
Lasem also holds the Lasem Batik Carnival which launches in 2013. Meanwhile, Bali, which is the mascot of Indonesian tourism, carries the Bali Arts Festival. The event is June the second Saturday and the second Saturday of July. This event is an exhibition of various kinds of artworks and artistic achievements visited by domestic and foreign tourists. Meanwhile, Cirebon also organizes cultural events such as the Kasepuhan Palace Art Show. This show displays various works of art including batik has been used by aristocrats there for a long time. This event includes the Cirebon Batik Ambassador competition.
The government also plays an active role in carrying out the art of batik which is manifested in national events and is attended by craftsmen in Indonesia including the 2016 Nusantara Batik Embroidery and Tenun Festival at Graha Manggala Siliwangi Bandung; Exhibition of Superior Products for Cooperatives, Small and Medium Enterprises (UKM), and Partnership and Community Development Program (PKBL) 2016 at Java Mall Semarang; Batik Handycraft Fashion Exhibition at Bellevue Mall Lebak Bulus Jakarta; Batik Embroidery Accessories Fair in Grand City Surabaya; 2016 Cultural and Archipelago Tourism Celebration at JCC Jakarta; Nusantara Batik title at JCC Jakarta; Inacraft at JCC which displays various Indonesian artworks.
The above activities are carried out in a sustainable and planned manner so that they gradually form public awareness of the heritage of batik art regularly becomes the nation's cultural identity. Also, this activity aims to increase the enthusiasm of the tourism industry can attract domestic and foreign tourists to get to know and popularize the distinctive features of Indonesian art in the form of batik art.
Batik Museum
The batik museum makes various efforts to preserve the art of batik, including procurement of collections, conservation measures for collections, and preventive actions in preserving collections. It is undeniable that currently, the museum faces several obstacles in the effort to preserve batik, including museum facilities and infrastructure, labor, and funding. If we look at the role of museums abroad, we will find a different impression. Foreign museums play an important role in cultural preservation. This is supported by the level of prosperity of the country, the level of education, and collective awareness that all actively participate in preserving its cultural heritage. This is what we should learn because it is full of valuable lessons so that later the batik museum in Indonesia will also experience development and progress in its role in preserving the art of Indonesian batik.
Become a Tourist Destination
After being recognized by UNESCO that batik is an Indonesian Cultural Heritage, the activity of the batik industry and batik tourism has become increasingly apparent. The holding of regular batik-themed events every year has invited both domestic and foreign tourists to come to see, buy, and even invest. This positives activity can read from the rampant sales of batik, the density of accommodation and hotels, the best selling restaurants that automatically raise the prosperity of the people who intersect with the event.
Tour invitations are also broadcast in Kampoeng Batik, Kampoeng Batik not only produces and sells batik but also offers educational tours. One type of educational tourism in Kampoeng batik is seeing the batik process and learning how to make batik using a canting on a small cloth the size of a handkerchief or tablecloth. The visitors will practice how to make batik with canting will be given to visitors as souvenirs. The batik experience itself is a unique treat so many visitors are curious and want to try it.
Besides Kampoeng batik, there is also a trade center or batik center that sells various kinds of batik cloth and batik clothes. Tourists can buy batik in this place at retail or per item. The task of the Indonesian people in preserving batik, especially in the tourism industry, is how to carry batik as an "mandatory souvenir" so it is not fitting to visit Indonesia without buying batik cloth.