Friday, 25 September 2020 09:57
Player Position and Duration Time of Basketball Match
Basketball Player Position
The number of players in a basketball game is five people in a team with reserves of people. Meanwhile, the number of referees in basketball is two people. The first judge called Referee, while the second judge called Umpire. In a predefined call-to-call ball game, here are the names of the basketball players: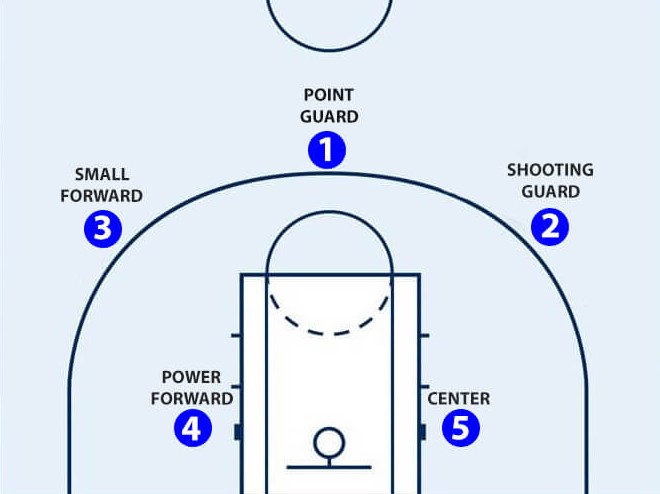 Guard : The player in front who tasked with scoring and breaking through the opponent's defenses. Regularly in the starter, there are two guards. Guard has many types like:

Point Guard : this type of guard has complete control over attacks into the opponent's area. usually, the point guard player's body is small

Shooting Guard : This type of guard can move fast and agile. he also has high shooting skills because it is his job to score points.
Center : These players are among the most important players on a basketball team. the center has a high body and jumps because he takes the jump ball part. The center is also required to have a high body balance so that it doesn't fall easily when hit by an opponent. the center is needed to attack and put the ball. but the center is also needed to keep the ring from conceding the ball.
Forward : players who are behind the task of maintaining the defense so as not to concede a number. just like a guard, forward also has various types in between:

Small Forward : small forward is a player who has more speed than the center position and other forward positions. small forward usually helps other forwards to grab the ball from the opponent.
Power Forward : Power forwards are usually not only good at defending the ring but also skilled at working together on rebounds with the center.
Duration of Time in Basketball Games
Game time 4 x 10 minutes. Between round 1, 2, 3, and round 4 there is a rest period of 10 minutes. If they're the same score at the end of the match, there must be a duration of time until there is a difference in score game. Between the two additional rounds, there is a 2-minute break. The time for the throw-in is 5 seconds.
Read also: